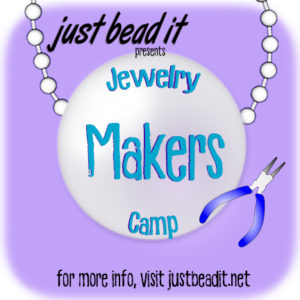 Come join us for our Jewelry Makers Camp here at Just Bead It! Great for both boys & girls, learn the basics of a few of our favorite & popular beaded jewelry pieces…and a great way to meet new friends!
Age: 8 yrs & up
Location & Times:

Beach Haven: Mondays, Tuesdays & Wednesdays 9 am – 11:30 am
Surf City: Tuesdays, Wednesdays & Thursdays 6 pm – 8:30 pm

Price: $125 (for all 3 days)
Day 1: Basic Training
Stack up your bracelets. Learn how to crimp on tigertail wire, stretch finishing, patterning with Czech Glass seed beads, pearls & more
Day 2: Knot your everyday Morse Code
Learn the basics about macrame and adjustable knots while learning Morse code
Day 3: Introduction to Needle & Threading
Learn how to do the peyote stitch. Learning this basic stitch is the jumping board for a countless number of other styles.
Rules & Regulations:
Payment is due at time of reservation. At this time, we can not hold reservations over the phone so please stop by the store to sign up.
Must show up for all 3 days/nights signed up for camp. Date changes will not be allowed, so please try to sign up for camps that you can attend. Any cancellations or no-shows will not be granted any refunds.
Cancellation of camp due to lack of beader reservations may occur. We will notify all participants ahead of time and refund will then be granted.
Space is limited. Please call each store for space availability.
Surf City: 609.494.8177
Beach Haven: 609.492.2323
Camp starts exactly at 9am in Beach Haven and 6pm in Surf City. Please be aware of time.
No interchanging of camp locations. Must stay at designated store reservation.
Jewelry makers are able to make more than 1 item during their time at camp.
Water & light snacks will be provided.
FAQ
Q: Why sign up for camp when I can just do a Pop-Up Project?
A: At our Jewelry Makers Camp, the kids are able to make MORE than 1 item during their time at camp, whereas the Pop-Up Projects allow you to make only 1 item.
Q: Can I just sign up for 1 day?
A: Yes, you can sign up for just 1 day of camp, with a price of $50 per day. A discounted price of $125 if signed up for all 3 days
For any questions or comments, please do not hesitate to call any of our store locations.