Hairwraps
If you are wondering if getting a hairwrap is right for you or your child, here are a few facts.  All of our wraps are priced at $3 per inch and are done by our experienced and friendly staff.  Hairwraps can be started from the top of the head or from behind the ear.  Investing in one requires sitting still for about 30 minutes.  This may seem like a long time, but the extra time we take leads to longer lasting results compared to other hairwraps.
Pricing: $3 per inch
Sitting time for hairwrap: about 30 min (depending on length of hair)
*By Appointment only* Call and reserve a spot!
N. Beach Haven: 609.492.2323
Surf City: 609.494.8177
What is a hairwrap?
Braiding three colors of embroidery floss into a small section of hair and then wrapping the colors around the braid in a "Chinese Staircase" pattern creates a Hairwrap.  Beads for the bottom of a wrap can be chosen from Just Bead It's pre-selected hairwrap beads and are included in the price of the wrap; however, other beads can be selected from the store for an additional charge.
How do I make an appointment?
You can call any of our 2 store locations to make your appointment. In order to guarantee a spot for a hair wrap, please be aware of which store you are making the appointment with (not all of our employees know how to do a hairwrap). We can not guarantee a spot if the appointment was made at the wrong location. Fridays and rainy days are the busiest days at Just Bead It, so please plan accordingly when making an appointment.
Guarantee:
Your hairwrap is guaranteed by Just Bead It for 2 weeks, although they can last for months if cared for properly.  Hair that has been properly wrapped can be washed like normal, but the wrap itself can NOT be brushed over because it will cause the hairs inside the wrap to break and may lead to the wrap falling out.  If you want to take the wrap out, cut the large knots at the bottom with manicure scissors and snip the staircase knot; or simply cut the entire wrap out of the hair.
How do you measure the hairwrap?
We measure the hairwrap when it is complete. If you would like to measure your child's hair to get a rough estimate, measure close to the root to the ends with a ruler. Be advised that your measurement may not be the same as our measurement when we are finished.
What if my child does not want it permanently in the hair?
We provide clip-on "Hairtails" for those who do not wish to have their hairwrap permanently on their hair. The Chinese Staircase is done on a piece of hemp cord, finished with beads, and can be placed in the hair with a bobby pin.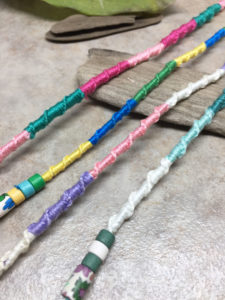 Feathers
Don't have time to sit down for a hairwrap? Come in and get a feather instead! They're easy to manage and only takes a few minutes to put in!
Price: $10 each
No Appointment Needed! Stop in any time!
Each store will have a variety of colors and may not have the same exact styles.
How are they put in?
Feathers are placed in the hair with a crimp bead. We take a small piece of hair and attach the feather with a crimp.
How do you take care of it?
They can be brushed, blow-dried, straightened and curled (up to 450°F) —basically, they can be treated like natural hair. Just be aware of the crimp. Do not brush the crimp for a long lasting placement.