November 16, 2017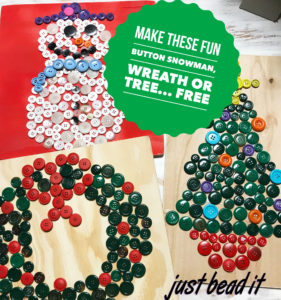 We are offering Thanksgiving weekend, all weekend, until our supplies run out, a FREE project.  Have your kids come in and make a wreath, tree, or snowman out of buttons.  We have been cutting the boards and sanding them to prepare for this fun event.  I even had a friend pop over and help design the tree.  Pop on over for this fun event.  We have all kinds of handmade ornaments, tons that say LBI of course, and some that we can personalize for you.  Click here to check them out.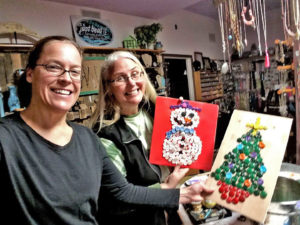 August 2, 2016
PERIDOT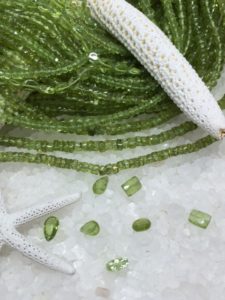 Peridot is a semi-precious gem that enlivens jewelry with its natural green tones of leaves, grasses, mosses, and water. Long valued for its visual appeal, peridot is also associated with light; ancient Egyptians called peridot "the gem of the sun." In Hawaii, it is linked to Pele, the goddess of fire and volcanoes, and symbolizes her tears. The origin of the word "peridot" is unclear—it may have roots in Anglo-Norman or Arabic terms for opal or gem, respectively. In 1245, the earliest use of "peridot" in English is recorded in a list of items bequeathed to an abbey by a bishop.
Peridot can vary in color from a light green to a dark brownish green, depending on how much iron is contained in the gem's structure. Peridot has been found in pallasite meteorites from the birth of our solar system, as well as in lava that travels to the surface from the Earth's mantle when a volcano erupts. Early Egyptian papyri mention mining peridot as early as 1500 BCE, and some historians now believe Cleopatra's famous emerald collection may actually have consisted of peridots. Legend has it that peridot set in gold carry the most power as a talisman. Pliny the Elder, a famous Roman authority, suggested that peridot must be worn on the right arm to maximize its potential. During the Crusades, Europeans brought peridot back to decorate ecclesiastical treasures.
More recently, peridot was detected on Mars, discovered on our Moon, and found in comet dust from the 2005 Stardust robotic space probe. Peridot is mined worldwide on every continent. The largest cut peridot of record is held by the Smithsonian Institution and measures at 310 carats.
According to centuries of folklore, peridot is believed to aid friendship and forgiveness, heal negative emotions like anger, free the wearer of envy, protect from the evil eye, convey happiness, release past resentments, and also draw lovers to the wearer. It purportedly brings power and influence, enhances self-esteem, and strengthens self-awareness. Physically, peridot is said to aid in issues related to the liver and digestive system, and to improve eyesight. With its tonic effect, peridot calms the nervous system, activates the heart, and treats phobias, especially fear of the dark. For those who pay attention to their chakras, peridot is linked to the solar plexus (3rd-Manipura) and heart (4th-Anahata) chakras; it unites their energies to help the wearer manifest well-being, prosperity, and happiness.
With its potential to heal and aid the wearer and its extraterrestrial or volcanic origins, peridot makes an ideal gift in a piece of unique handmade jewelry. Peridot is the birthstone for August and is associated with the Zodiac signs Leo, Virgo, Scorpio, and Capricorn, and with the earth element. It is given to celebrate the 16th year of marriage. Peridot beads can be used in earrings, bracelets, necklaces, and anklets. Imagine an artisan-made piece of peridot jewelry where multiple sizes of this gem adorn chains, such as a minimalist hanging bead on a single strand, a line of smaller stones beaded on a rod to give geometric simplicity, and a larger set of stones highlighted in a more ornate array. Your one-of-a-kind peridot jewelry can help you to JUST BE YOÜ.
---
July 7, 2016
TURQUOISE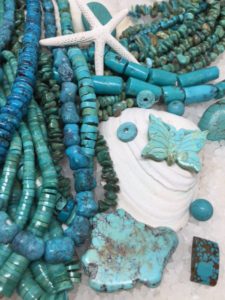 Turquoise makes amazing jewelry since its range of blue-green colors matches our oceans, bays, lakes, rivers, and sky. Along with enhancing your personal style, the colorful stone radiates the peace, calm and tranquility of blue, the balance and growth of green, and the uplifting energy of yellow. Breathe freshness into your accessories with a new bracelet, anklet, necklace, or earrings featuring turquoise!
The name "turquoise" comes from the French, pierre turquoise, meaning "Turkish stone," because the trade routes that brought turquoise to Europe from the mines in central Asia went through Turkey, and merchants often purchased the stone in Turkish bazaars. Long before Europeans named it, however, ancient cultures mined and valued turquoise for its use in rituals and as talismans. Turquoise beads date back to 5000 B.C. in Iran. Early Native Americans used turquoise rocks and jewelry in ceremonies to symbolize "the god of the sky alive in the earth."
Just as it has for millennia, turquoise jewelry makes an incredible gift now because—not only is it lovely to look at—it's believed to bring good fortune, and its protective energy is enhanced when received from a friend. And even if you or the person you're gifting isn't a Sagittarius (the astrological sign associated with turquoise) or born in December (the traditional birth month for turquoise), it's clear that pretty much anyone can benefit from wearing turquoise.
Yes, stylish jewelry can actually do your body, mind, and soul good. There are literally dozens of benefits cited for wearing and using turquoise, and these notions occur across many cultural traditions. As a talisman for physical and mental well-being, pieces of turquoise are said to offer protection and purification, speed healing, and strengthen the wearer. In feng shui, turquoise represents the water element, improving energy flow in the body and thus improving the immune system. Wearing turquoise purportedly relieves stress, conveys tranquility, absorbs negativity, brings abundance and luck, restores clear vision and balance to the mind, and promotes friendship, loyalty, and romantic love.
People who pay attention to their chakras say the energy of this stone vibrates strongly within the fourth or heart chakra, which helps you to be more compassionate and forgiving. Turquoise is also associated with the fifth or throat chakra, and thus should enhance your powers of love and communication. In the Christian tradition, the stone is associated with the Archangel Michael, who offers protection, courage, and truth. Some say turquoise can even guard your pet from straying or being stolen! How about hanging a pendant from your dog's collar alongside his or her identification tags?
Whatever your beliefs, have confidence in this: the opaque beauty of natural turquoise brings a unique accent to any outfit. Each piece of turquoise is literally one-of-a-kind. A minimalist silver chain with a single geometric turquoise shape; a chunky, funky strand handcrafted with select turquoise beads; a favorite carved turquoise shape on a simple line of leather—any piece of turquoise can help you JUST BE YOÜ.
---
June 28, 2016

Howdy Folks!
The Surf City Firehouse Farmer's Market on LBI is BACK and we will be participating in this awesome event!
When is it? It is held on every Monday starting on June 27-Aug 29
What time? 8 am – 12 pm
Where? Surf City Firehouse located on 713 North Long Beach Blvd, Surf City, NJ (right on the boulevard on LBI)
So if you're in the Long Beach Island or better yet, Surf City area on Mondays, come stop by and support your local farmers and artisans!